So ... You want to become Internship at Hugo
1fte
Hugo breaking sound barriers
Hugo always has room for interns who are eager to learn with key values: enthousiastic, independent and responsible!
Who are we looking for?
Hi, I'm Hugo, I'm a startup going for gold!
As start-ups do I work hard and I play hard trying to create the best and innovative product, the best sales and the best service! Are you a person that fits my working culture and atmosphere then you are looking at the right vacancy! But first, let's test if the text below applies to you:
Start-up-er:  You are an individual passionate about working with small, driven groups of entrepreneurs, and love the idea of wearing multiple hats and working long hours to complete a goal. You thrive in an innovative environment, eagerly accept challenges, and find joy in not knowing what's around the corner!
Still here? Then please continue reading! As said, I am Hugo and I help event organizers send out smart email campaigns, optimize their data management and get the best feedback and let them finally and truly engage with their fans.
Companies we're proudly working for: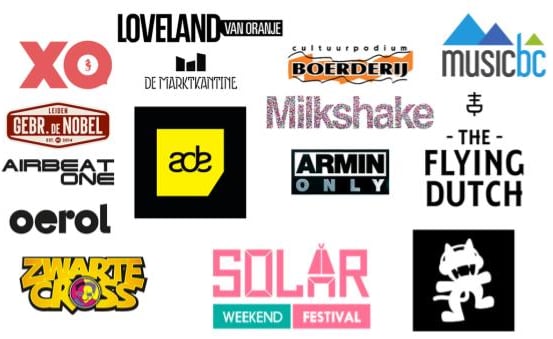 What I am and who you are:
Over the past couple years, the company grew rapidly so there is a lot to do! The team is based in Amsterdam and consists of people that do everything they can to make sure Hugo works with happy customers. You get the chance to make your mark, grow professionally and be a responsible and essential part of the team!
Internship 1: Sales and/or Account Management Internship:
The sales and account management traineeship offers you the following opportunities:
Practice your sales skills by pro-actively approaching event organizers in the Netherlands and show them why they are currently missing out on crucial feedback from their visitors and fans
Take your first steps as Account Manager and assist Hugo clients with sending out smart email campaigns with content their fans love
Analyze lead and client behavior to optimize Hugo's services
Develop sales collateral like presentations and pricing sheets
Work together with the marketing department and content department to assure the best information distribution about Hugo's benefits
You advise, structure, administrate, support, lead and rock
Internship 2: Internship in Content Management & Marketing:
The internship in content management and marketing communication offers you the following opportunities:
Develop social media content calendars to not only assure the right content distribution but to also thrive for engagement
Working on community management: further engage with the Hugo community
Copywriting: help with Hugo's blog, write whitepapers and do research to get to the best Content Marketing activities
Assist in email marketing (both copywriting as well as database optimization)
Deploy your best Search Engine Optimization and Advertising skills
Work along with existing content management activities of both hugo.events as well as Hugo's online support centers
Accompaniment:
At Hugo I will always guide you during your journey towards all you need to learn during your time at the company
Your application:
To apply for the internship, please send your application including your resume and motivational letter via email to work@hugo.events and I will get back to you as soon as possible! If you have any specific questions about this position, you can also ask them by sending an email to work@hugo.events.
How to apply?
Application is actually really easy, Just drop us a line here, including your cover letter and cv, and (if you have it) a link to your portfolio
About Hugo
Hugo is a fresh and new approach to Fanbase Management, Event based surveys and Email Campaigning for event organizers. We are a very motivated, young and international team, dedicated to creating the best possible experience for both organizers as well as fans. We operate from Amsterdam, the creative heart of the global event industry.
Are we your future
colleagues / friends?